The event is free to all attendees and everyone is welcome to attend! Exhibits include airplane and helicopter displays, air traffic control tower tours, aircraft flyovers, food trucks, local businesses, a bounce house for kids, and a flying car! Pilots can come see both new and vintage aircraft and the public will enjoy learning what it takes to become a pilot and learning about the numerous benefits our local airport brings to the community.
Please join us for Airport Day on Sunday September 24 from 10am to 2pm!
Volunteers needed! Contact the Palo Alto Airport Association to become part of the fun!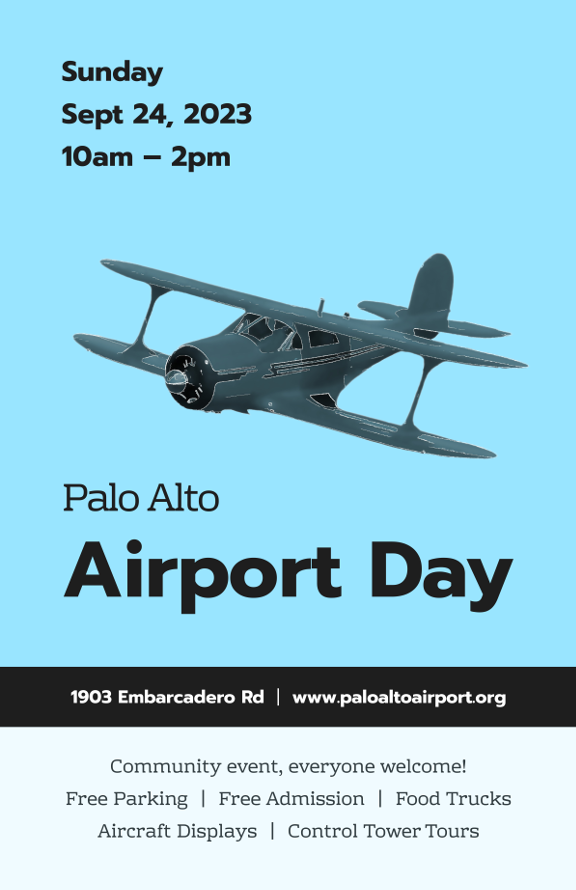 Watch this page for updates and details, and please help spread the news by downloading and sharing the above 2023 Airport Day flyer in PDF.
See images from previous years below.
There was no Palo Alto Airport Day event in 2019 due to renovations at the airport, nor in 2020 through 2022 due to continued renovations and the COVID-19 pandemic.
2017
2017 Palo Alto Airport Day flyer
YouTube videos:
Palo Alto airport day – 11-ship formation flight

2016
2016 Palo Alto Airport Day flyer
2015
2015 Palo Alto Airport Day flyer

2014
YouTube videos:
2013
YouTube videos:
2009
YouTube videos:
2005

2004
YouTube videos:
Palo Alto Airport Day 2004